by Rui Couto
15 years of modular buildings
Jan 12, 2023
15 years ago, in April 2007, LEGO released what would become the first set of LEGO modular buildings, and one of the most iconic, the 10182 Café Corner. Sold exclusively through LEGO stores, and with a 2056 part count, there was no special designation in the box, it was just another LEGO set. That would be the trend for the following sets, such as the 10185 Green Grocer, 10197 Fire Brigade, 10211 Grand emporium 10218 Pet shop and 10224 Town Hall (except for the 10190 Market Street, sold under the label "LEGO factory").

It was only with the release of the 10232 Palace Cinema that LEGO started to sell these sets under the LEGO Creator expert line, rebranded this year to LEGO Icons. Bellow are some example of the evolution of the LEGO modular buildings boxes.




Since its initial release, LEGO has released all kinds of different buildings, from facilities (Fire stations, Police Station), businesses (mechanic, restaurants, banks), to houses and hotels. This large variety of buildings have allowed for collectors to create amazing cities and beautiful expositions, being modular buildings, one of the sets I tend to see non AFOL (Adult Fan Of Lego) adults becoming more impressed with.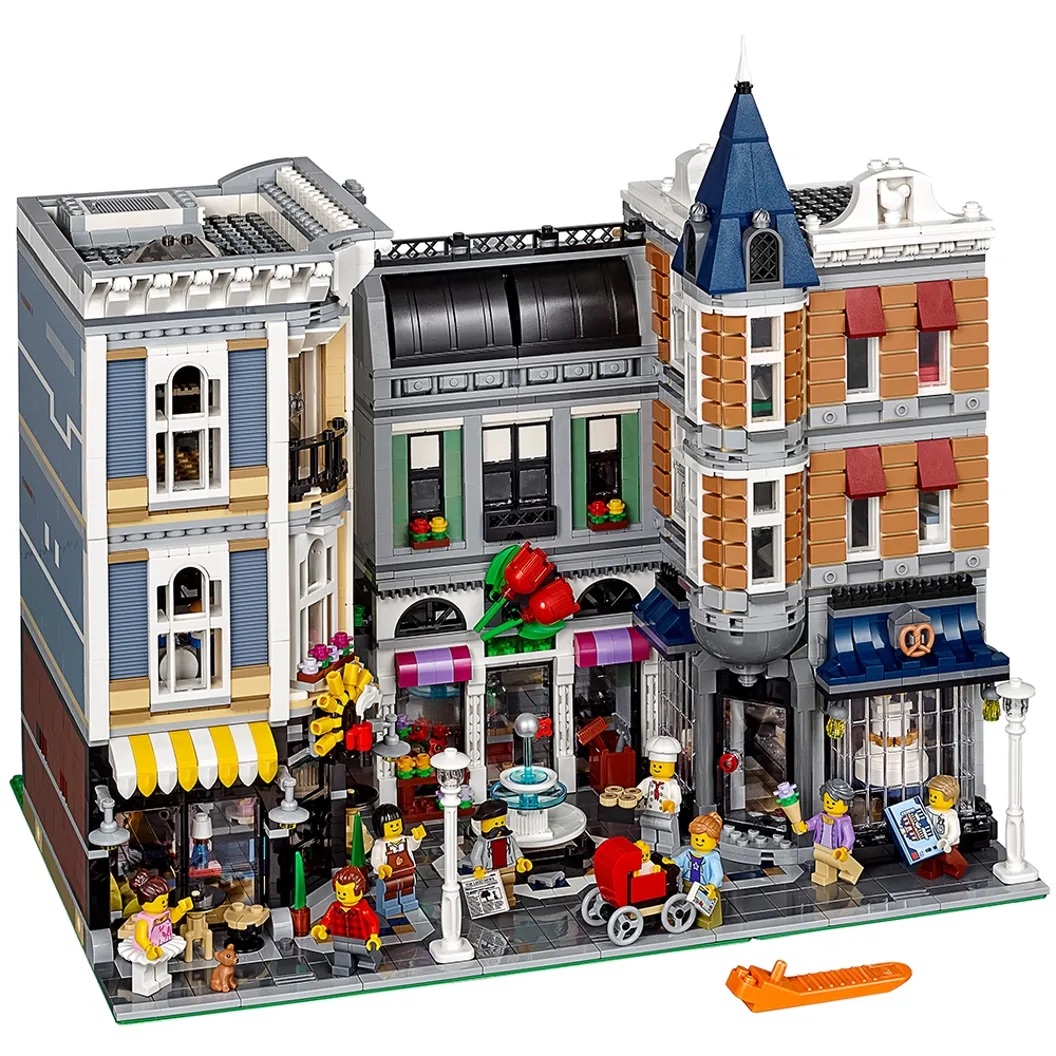 Although in my opinion the LEGO 10232 Palace Cinema marks the first change in direction for modular buildings, as sets since then seem to have more attention to detail, the first major milestone acknowledge by LEGO themselves is the 10 years of modular buildings, celebrated with the release of 10255 Assembly square.

That set celebrated ten years of modular buildings in three ways: It's the largest LEGO modular building released to date with 4002 parts; it included elements as a tribute to all LEGO modular buildings released before, such as the Café Corner mug sign replica, the café corner printed tile, or the Green Grocer Baby pram; and being on sale for more than 5 years.

Categories of modular buildings
Building and owning most of the modular buildings released so far, allowed me to establish an opinion on these sets and their evolution over the years. 15 years of Modular buildings is, in my opinion, a great achievement, especially keeping a consistent quality. Often we see people referring as thing were better in older days (not specifically in LEGO), but fortunately, that's not my opinion.

Personally, I prefer to categorize LEGO modular buildings according to their line: the classic ones - from Café Corner to Town Hall; the Creator expert ones - from Palace Cinema to Bookshop; and the Icons ones, including Police Station and Boutique Hotel. I prefer this categorization as I believe it represents three categories of sets, meaning I feel that these sets are different rather than better or worse.
To better explain myself, I think that the classical ones are a reflection of LEGO in the older days: fewer parts and colours availability, simpler building techniques and more emphasis on the architecture of the buildings (many of them led by the Jamie Berard designer).
Colours and architecture were less vibrant and less realistic than sets today, such as for instance Downtown dinner with bright pink and teal colours elements. I wouldn't be surprised if these sets were actually designed by architects. Loogin for instance at the 10185 Green Grocer in the image bellow, the similarities with real buldings from Copenhagen is visible in several architectural elements, such as the colors, roofs, windows and doors.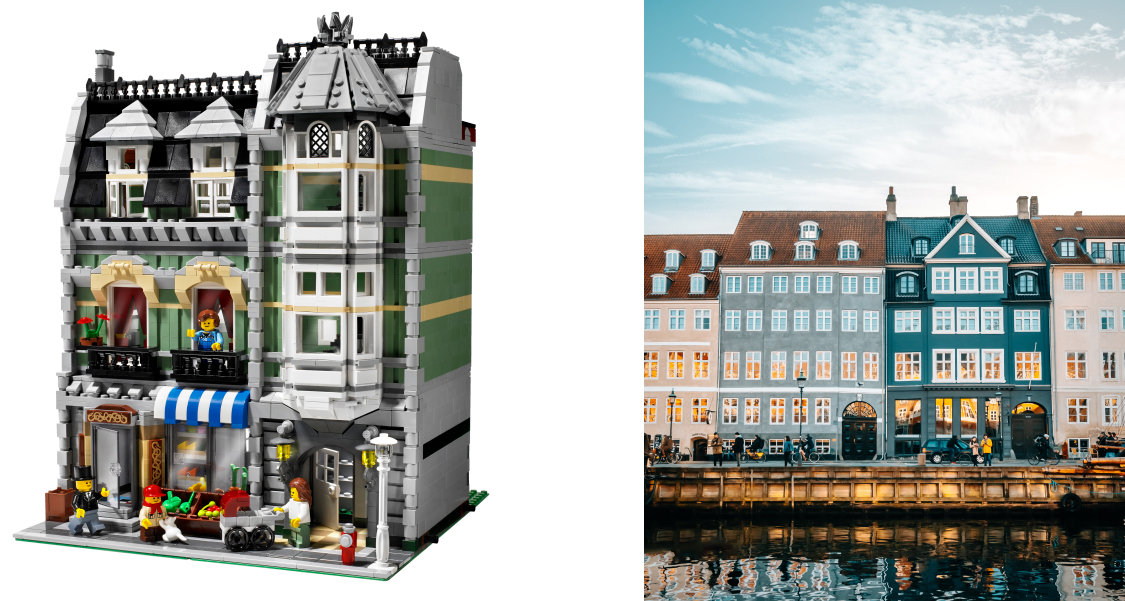 The introduction of the Creators expert theme in modular buildings marks a transition period in which LEGO was growing as a brand, and as a result, more parts were available, which allowed for more experimentation and more parts and colours variety. One example is the usage of non-obvious elements for architectural objectives, such as the usage of the Hero Factory Fist element for the the roof eave (on the building on the left), in the 10246 Detectives office.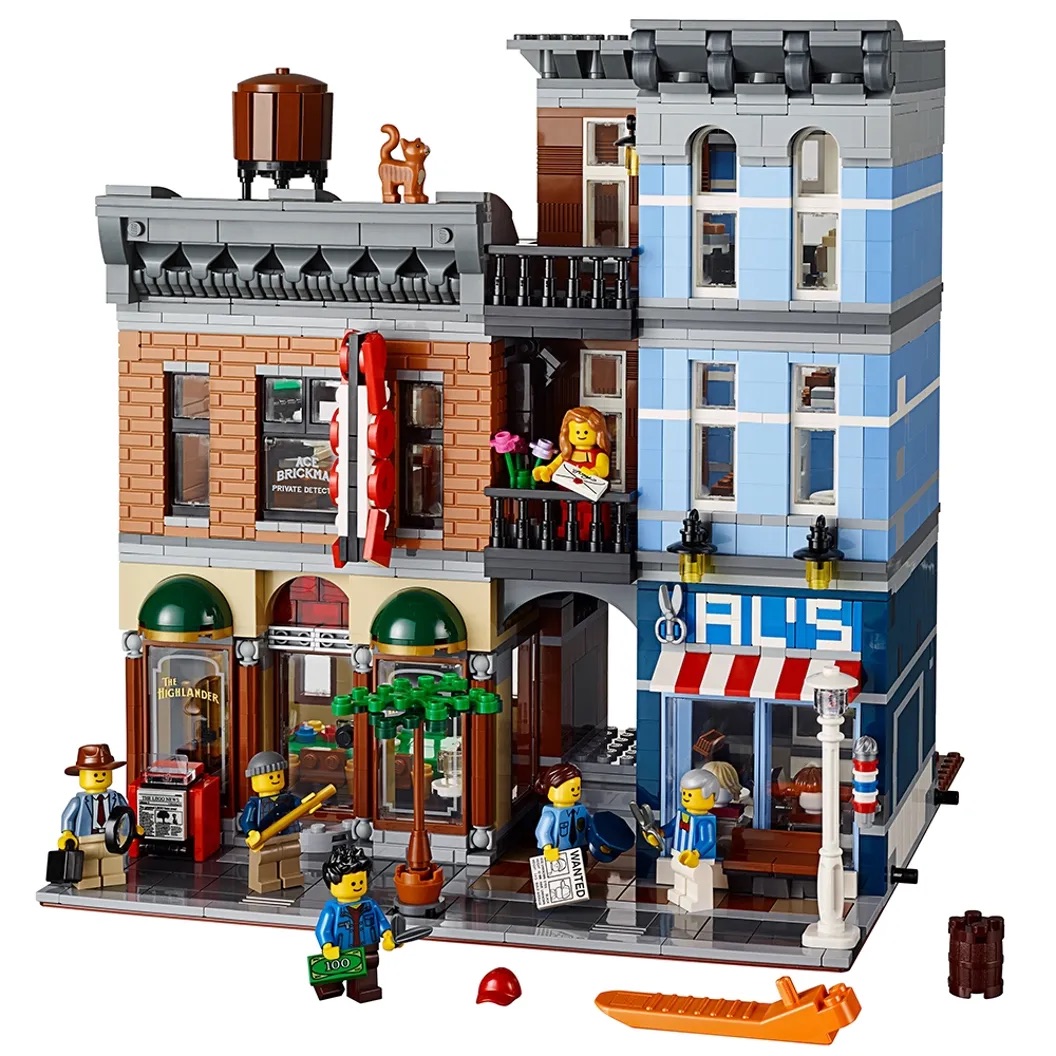 Also, this category marks the introduction of more detailed interior designs, which were relatively simple until then. As a result, sets are more detailed, more decorated, representing the evolution of the brand itself. Finally, the Icons era, represents the establishment of the brand, where buildings have more confident designs, refined part selection, and even iterate on top of previous topics, such as the story around the donut robbery (told in the instructions manual of the sets). So, in conclusion, I tend to look at these sets as different "kinds" of sets, instead of a linear evolution. To further support my classification, there are other buildings released by LEGO (such as in the Ninjago or Marvel themes, more on that in a bit), which fit the modular buildings but being part of other thematics.

Personal opinion
So, all things considered, what do I think about the LEGO modular buildings' series? For me, this is my favourite Lego theme - Great building experience, full of details and variability, always with a great selection of elements; usage of many classic elements, which have a nostalgic factor for my (I really love the minifigures which use the simple faces, as they remind me of my childhood); and they are consistently good sets.

After assembled, the sets create amazing display elements, that often impress people who see them, so I feel that they aren't "just another set" in the collection, or something too specific to be a display piece, such as Star Wars sets, which are usually only impressive for people who are familiar to the theme. Finally, these sets are released at a steady pace, with one set per year, so it's fairly easy to keeping up with them.
On the downside, getting older sets with reasonable prices is near to impossible, with prices over the roof for some specific sets. Although it is possible to have similar replicas, by using modern parts to replicate older sets, that's a whole another topic for another article. Another topic that arises in the community from time to time is the release of official discontinues sets as new sets. Again, I have mixed feelins about this - while it would be amazing to have the possibility to build discontinued lego sets, on the other hand the usage of new parts creates more interesting designs.

Too see what I mean, we can take a look at both the 10182 Cafe Corner and the 10297 Boutique hotel: both have the same theme, sharing some architectural similarities, however the Boutique hotel is a fairly more detailed set. Although Lego has, in the past, done re-releases of older sets as part of their Legents theme, (such as the 10001 Metroliner), I honestly don't see that happen with these sets.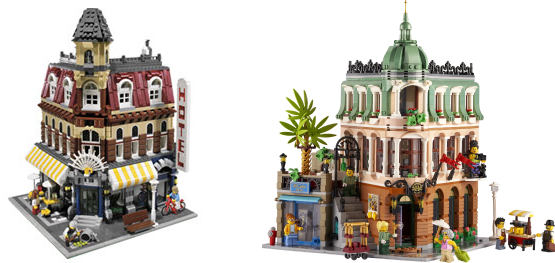 Regarding sets detail, interiors create great building experiences, but possibly less detailed exterior details. For instance, the Brick bank has an amazing chandelier, which can go unnoticed to the untrained eye. To be honest, I have mixed feelings about this, as the exterior of the buildings keep being detailed and beautiful. Overall, from year to year I see a positive trend in the quality and enjoyment I got from building these sets, with some that I enjoy more than others, but none that I don't really like. Personally, 10185 Green Grocer, 10232 Palace Cinema, 10243 Parisian restaurant, 10255 Assembly square, 10260 Downtown dinner, 10270 Bookshop and 10297 Boutique hotel are amongst my favourite ones.

The future of modular buildings
There are no hints that modular buildings are about to change in the future (also, LEGO had an opportunity to do it if needed during the rebranding to LEGO Icons). So, I expect LEGO to keep releasing a new set every year, usually addressing non-existing buildings.
I also expect the quality of the sets to remain consistently high, offering a great building experience and beautiful display item.

My only concern is that LEGO might avoid revisiting old themes, such as the fire station, and I have mixed feelings on that - while it's good they have new and fresh themes, getting old buildings is getting harder and harder. Even rebuilding older sets with newer parts is becoming harder, as some parts are eventually discontinued.
Personally, I believe that the trend is positive, I never felt that there was a downgrade from year to year, and I don't consider that there is a bad modular building. Also, value wise, prices per piece (for what it's worth), has been slightly dropping year after year*, so price wise these sets aren't necessarily becoming more expensive, although this is a sensitive topic, since the value of the pieces are just another variable when considering a LEGO set.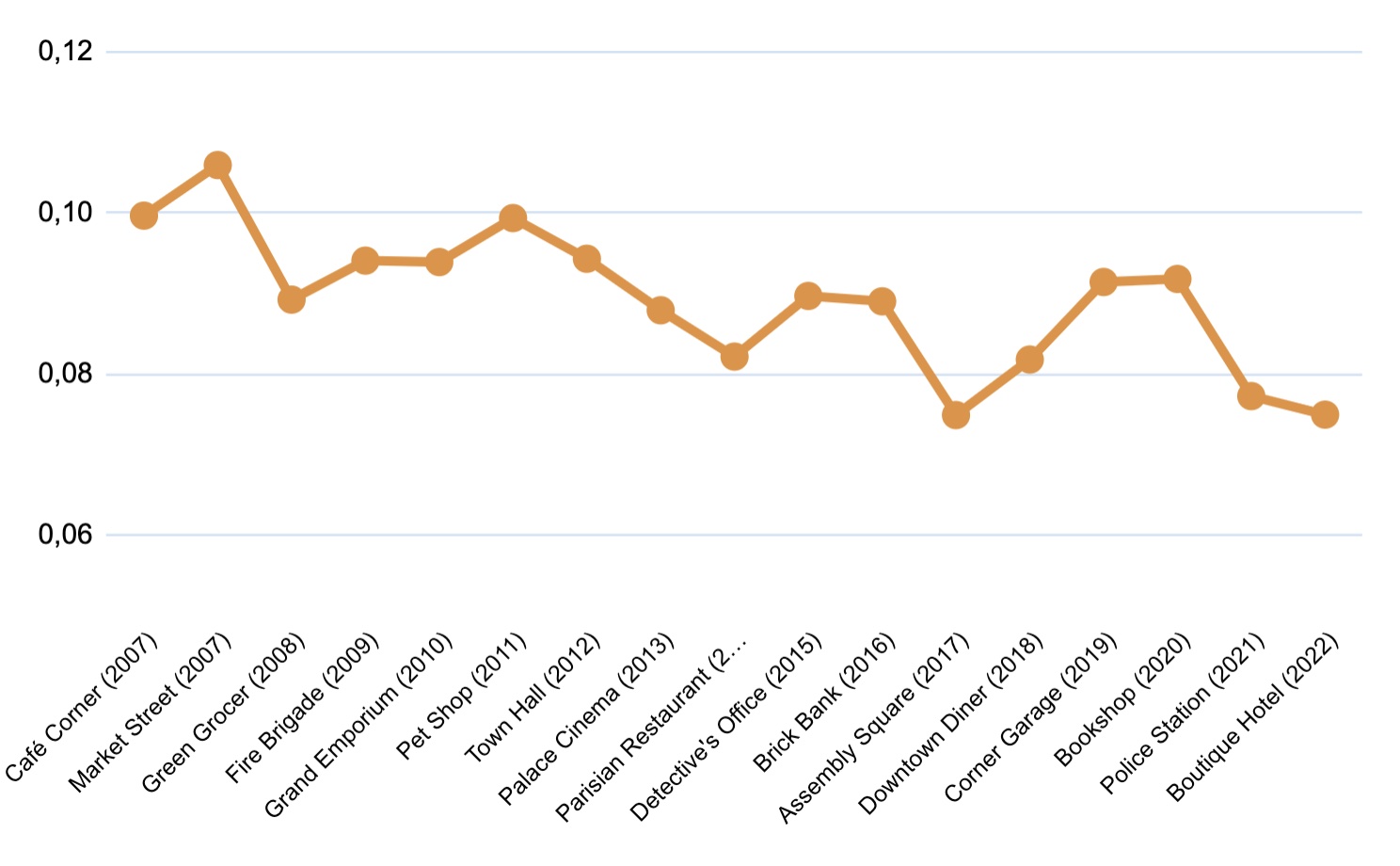 Finally, there are more buildings apart from modular ones from LEGO. Over the years, LEGO has released several sets which although not being specifically considered modular buildings, they fit the same thematic, with a similar approach, for instance, multi story buildings, which are made to connect with other buildings in the same range and/or modular buildings themselves. Examples include the 76178 Daily Bugle and 76218 Sanctum Sanctorum from Marvel, and the 70620 NINJAGO city, 70657 NINJAGO City Docks and 71741 NINJAGO City Gardens.

All these buildings provide great building experiences and result in beautiful display items as well. Apart from modular buildings, from time to time LEGO also surprises us with other buildings, such as is the case of the 10228 and 10273 haunted houses, or even the 21310 Old Fishing Store, but those are topics for a whole another conversation.
Overall, modular buildings are my favourite LEGO theme, the one I have been collecting for the longest time, and which provides me with the most fun. I'm glad to see that, looking back, there are strong reasons to believe that future sets will be just good, if not better, than past ones. Once LEGO decides to create what I consider a new category of modular buildings, maybe I'll need to review my opinion. However, until then, I'll keep looking forward with excitement whenever news of a new set arises, such as the new 10312 Jazz Club, a set I'm excited for!
What do you think about this article?